Hubble and ALMA Observations Probe the Primitive Nature of a Giant Space Blob, Himiko, Seen Close to Cosmic Dawn
November 22, 2013
Kavli Institute for the Physics and Mathematics of the Universe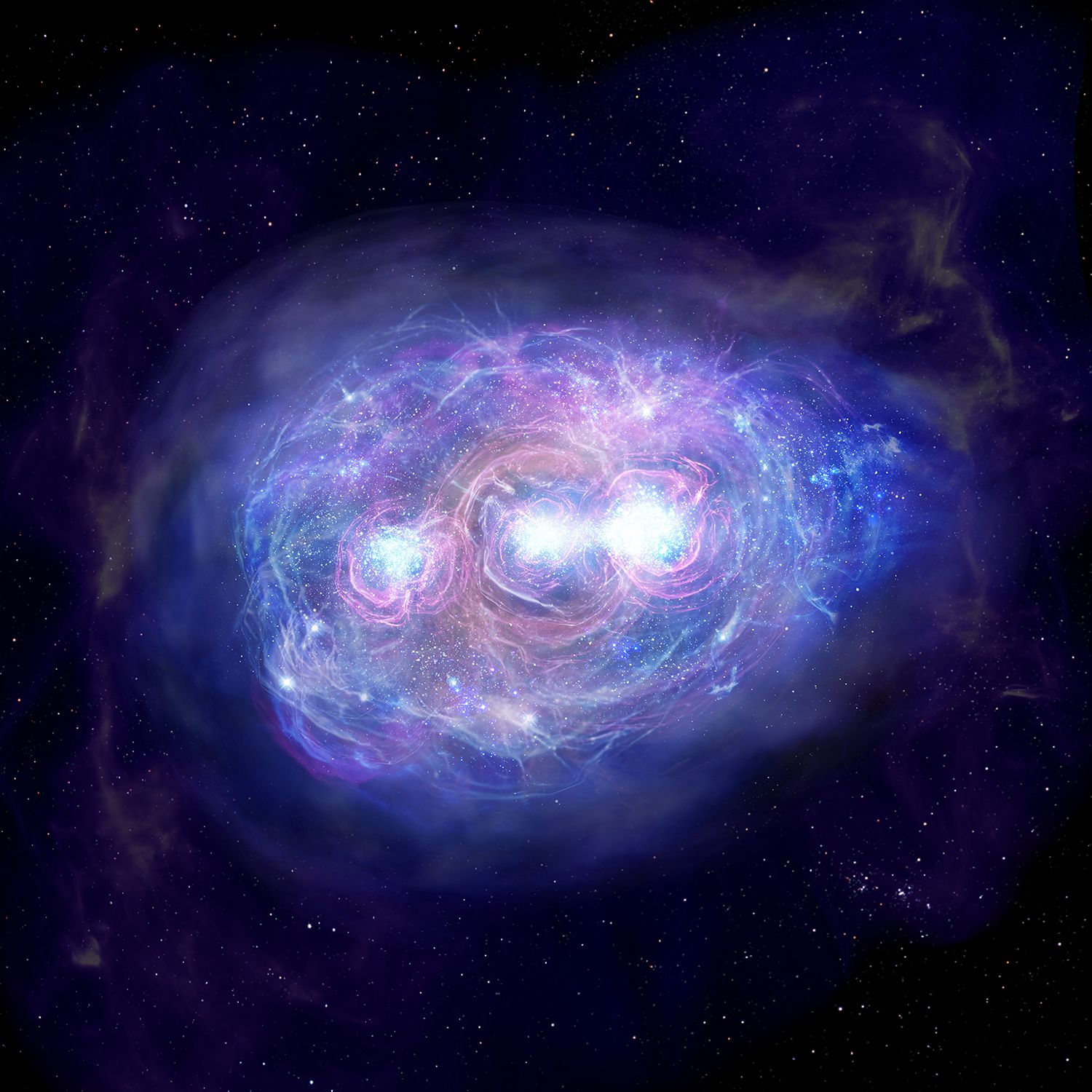 Artist's rendition of Himiko that is based on the results from the observations of Hubble Space Telescope and ALMA. Credit: National Astronomical Observatory of Japan)
Using Hubble Space Telescope and instruments on the Atacama Large Millimeter/Submillimeter Array (ALMA), astronomers led by Masami Ouchi, Associate Professor of the Institute for Cosmic Ray Research (ICRR) and Scientist of the Kavli Institute for the Physics and Mathematics of the Universe (Kavli IPMU) have explored the physical nature of a remarkable giant `space blob' first discovered using the Subaru Telescope on Mauna Kea, Hawaii. The new observations reveal a complex structure suggestive of a rare triple merger and, most surprisingly, the absence of heavy chemical elements indicating its primitive nature. The giant blob, named `Himiko' (after a legendary mysterious queen in ancient Japan), is being seen when the Universe was only 800 million years old, corresponding to 6% of its present age. The observations provide valuable insight into the earliest stages of galaxy formation at a time termed `Cosmic Dawn' when the Universe was first bathed in starlight.
The research is published in the December 1, 2013, issue of The Astrophysical Journal.
The work was funded by the NASA through a grant from the Space Telescope Science Institute, which is operated by the Association of Universities for Research in Astronomy, Inc., under NASA contract NAS 5-26555. The researchers were supported by World Premier International Research Center Initiative (WPI Initiative), MEXT, Japan, and KAKENHI (23244025) Grant-in-Aid for Scientific Research (A) through Japan Society for the Promotion of Science (JSPS). This work makes use of the following ALMA data: ADS/JAO.ALMA#2011.0.00115.S. ALMA is a partnership of ESO (representing its member states), NSF (USA) and NINS (Japan), together with NRC(Canada) and NSC and ASIAA (Taiwan), in cooperation with the Republic of Chile. The Joint ALMA Observatory is operated by ESO, AUI/NRAO and NAOJ. This work is based in part on observations made with the Spitzer Space Telescope, which is operated by the Jet Propulsion Laboratory, California Institute of Technology under a contract with NASA. Support for this work was provided by NASA through an award issued by JPL/Caltech.
The Kavli Institute for the Physics and Mathematics of the Universe (Kavli IPMU) is an international research institute with English as its official language. The goal of the institute is to discover the fundamental laws of nature and to understand the universe from the synergistic perspectives of mathematics, astronomy, and theoretical and experimental physics. The Institute for the Physics and Mathematics of the Universe (IPMU) is established in October 2007 as one of the World Premier International Research Center Initiative (WPI) of the Ministry of Education, Sports, Science and Technology in Japan with the University of Tokyo as the host institution. IPMU was designated as the first research institute within Todai Institutes for Advanced Study (TODIAS) in January 2011. It received endowment from The Kavli Foundation and was renamed "Kavli Institute for the Physics and Mathematics of the Universe" in April 2012. Kavli IPMU is located on the Kashiwa campus of the University of Tokyo, and more than half of its full-time scientific members come from outside Japan. 
http://www.ipmu.jp/