Dec. 13, The Fourth annual WPI joint symposium in Tokyo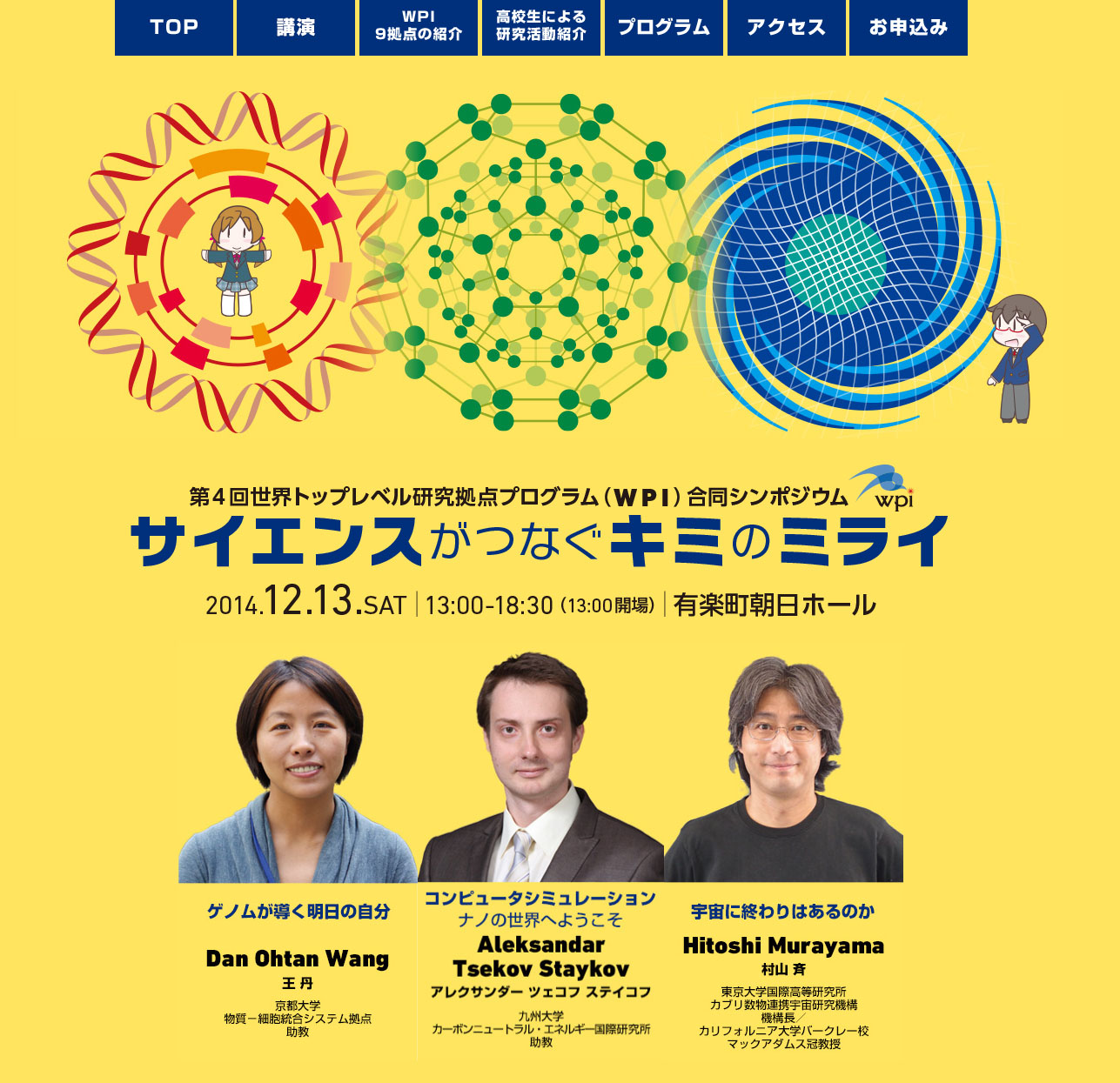 The Fourth Annual WPI Joint Symposium will be held on Sat., Dec. 13 in Tokyo, hosted by Kavli IPMU and co-hosted by the other 8 WPI centers. The symposium has been held jointly by the WPI centers since 2011, and its main purpose is to attract especially high school students to cutting-edge scientific research.

This year, Kavli IPMU Director Hitoshi Murayama and two world's top-level researchers will give talks. In addition, you can enjoy exhibitions of the research activities by the WPI centers and presentation of high school students on their daily research activities. The talks and presentations will be simultaneously and mutually interpreted between Japanese and English.

The details can be found below and the special website (http://wpi2014.ipmu.jp) (written in Japanese).

Update! (Dec.12)
On Dec. 13, the 4th WPI Symposium will be broadcasted. The live broadcast will be available on the webpage.
(* Simultaneous translation will not stream online. The video will not be available after the symposium.)
---
Date &Time: Saturday, December 13, 2014,13:00-18:30 (open at 13:00)
Venue: Yurakucho Asahi Hall (2 minutes walk from Yurakucho Station)
2-5-1 Yurakucho, Chiyoda-ku, Tokyo , Japan
Admission: Free
Language: Japanese and English (Simultaneous and mutual interpretation will be available.)
Seat: 600 (prior registration required)
Further Inquiry: Please contact to Kavli IPMU Public Relations office (koukai-kouza_at_ipmu.jp)
※Please change "_at_ " to @.
---
Lecture 1
Speaker:
Dan Ohtan Wang,
Assistant Professor,
Institute for Integrated Cell-Material Sciences (iCeMS),
Kyoto University
Title:
How does the human genome shape individuality?
Abstract:
Have you ever thought about the higher order functions of your brain such as free will and abstract thinking? How do we guess, evaluate, decide, and act when faced with real life situations? What makes us like or dislike people we meet? Can we fully control our emotions with mental power? How do we mold our personalities and individuality? These mental functions are essential to our lives and deeply regulated by our genomic information. In this lecture, I would like to discuss recent research outcomes on how genomic information influences higher order brain functions such as free will and personality.
Brief Biography of the Speaker:
Born and raised in Shenyang, China, Wang received her bachelor's degree from the Tokyo Institute of Technology, and Ph.D. from the University of Southern California. After her postdoctoral training at UCLA and the RIKEN Advanced Science Institute, she joined Kyoto University's iCeMS and is currently an iCeMS Kyoto Fellow (group leader). The main focus of her research is to understand the molecular mechanisms that drive higher order brain functions by studying dynamic RNA regulation.
---
Lecture 2
Speaker:
Aleksandar Tsekov Staykov
Associate Professor,
International Institute for Carbon-Neutral Energy Research (I2CNER),
Kyushu University
Title:
Computer Simulations: Our Eyes into the Nano-World
Abstract:
As a kid, I was always excited about science-fiction books and movies. But as I grow older, I realized that science-fiction is only our prediction for the future. Science is what creates the future. And I decided that I want to take part of creating the future. When I was a kid, a hydrogen powered car was just science-fiction, nothing more. But very soon with the help of science we will drive hydrogen powered cars. Molecules and atoms have size of 0.1 to 100 nanometer (1 nanometer = 10-9 meter) and are invisible for the human eye and most of our experimental techniques. Fortunately, using the laws of Physics and Mathematics, we can simulate how the molecules look like, how they move, and how they react. These simulations shine light to the amazing nano-world. The impressive laws of Physics such as Quantum Mechanics and Relativity Theory can explain our Universe starting from the huge galaxies and stars to the tiny particles, which form the atoms. I find it fascinating that now we can perform computer simulations and actually see "space and time" or "atoms and electrons". It is fascinating how the computers can enhance our intellectual power and allow us to reveal the invisible secrets of our world.
Brief Biography of the Speaker:
I was born in 1979 in Sofia, the capital of Bulgaria. After I graduated with M.Sc. degree from Sofia University, I moved to Germany where I obtained my PhD degree from University of Leipzig. I speak Bulgarian, English, German, Russian, and a little bit Japanese language. My research field is Physical and Theoretical Chemistry and I perform computer simulations to understand how the chemical reactions proceed. In I2CNER, I could investigate how hydrogen is produced and how it interacts with metals.
---
Lecture 3
Speaker:
Hitoshi Murayama
Director,
Kavli Institute for the Physics and Mathematics of the Universe (Kavli IPMU),
Todai Institutes for Advanced Study (TODIAS), the University of Tokyo
MacAdams Professor of Physics,
University of California, Berkeley
Title:
Does the Universe have an end?
Abstract:
Whenever you looked up the starry sky, I'm sure you have wondered about many profound questions: how the universe began, whether it has an end, what it is made of, and how we come to exist in it. In recent years, it became possible for science to address these big mysteries. What we have learned about the Universe is very surprising; unlike what anybody could imagine. You should have been told that everything is made of atoms, but it is not true at all. Matter made of atoms accounts for only about 5 % of the universe. Dark matter and dark energy take up 27 % and 68 %, respectively, and we don't know either of them. However, the universe evolved through a tug-of-war between dark matter, which pulls by gravity, and dark energy, which keeps multiplying and tears up the universe. Will the universe be infinitely torn apart? I will talk about research on these subjects.
Brief Biography of the Speaker:
Prof. Murayama was born in Hachioji, Tokyo in 1964. He received his Ph.D. in theoretical physics from the University of Tokyo in 1991, held research positions at Tohoku University and Lawrence Berkeley National Laboratory(LBNL), and has been on faculty at University of California, Berkeley since 1995. Currently he is a senior staff member at LBNL and MacAdams Professor of Physics at the University of California, Berkeley. Since 2007, he has also been the founding director of Kavli Institute for the Physics and Mathematics of the Universe at the University of Tokyo. He received the 2002 Yukawa Commemoration Prize. He is a Fellow of American Physical Society and a member of American Academy for Arts and Sciences as well as Science Council of Japan. Nature's deep puzzles - from eccentric particles to dark matter to why our universe is expanding faster - are what he strives to solve.