Train and Bus Route Map
By Airport Bus
Narita Airport - Kashiwanoha campus station: about 90 minutes, 1700JPY (one-way)
Narita Kuko Kotsu Bus
Timetable: http://www.nariku.co.jp/kousoku/matsudo.htm
Airport Bus Stop & Ticketing: www.narita-airport.jp/en/guide/service/list/svc_32.html
*We recommend the reservation from Kashiwanoha to Narita airport
By Train
There are several ways of transportation from Narita Airport to Kashiwa Campus
The following route finders are useful to find the best way
(Hyperdia) http://www.hyperdia.com/en/
(Jorudan) http://www.jorudan.co.jp/english/
From: Narita Airport
To: Kashiwa or Kashiwanoha Campus
Refer to "From Tokyo Downtown" regarding the access from the stations to Kavli IPMU
By Taxi
Narita Airport - Kashiwa Campus: about 85 minutes, about 18000JPY
Airport Taxi Stand: http://www.narita-airport.jp/en/access/bus/index.html#taxi
From Haneda Airport
By Airport Bus
Haneda Airport – National Cancer Center: around 70 minutes, 1,540 yen (one-way)
Timetable, Airport Bus Stop & Ticketing: http://hnd-bus.com/route/kashiwa.html
National Cancer Center – Kavli IPMU: refer to the Campus Map
By Train
There are several ways of transportation from Haneda Airport to Kashiwa Campus.
The following route finders are useful to find the best way.
(Hyperdia) http://www.hyperdia.com/en/
(Jorudan) http://www.jorudan.co.jp/english/
From: Haneda Airport
To: Kashiwa or Kashiwanoha-Campus
Refer to "From Tokyo Downtown" regarding the access from the stations to Kavli IPMU.
From Tokyo Downtown
Get to Kashiwanoha-Campus Station (Tsukuba Express Line) or Kashiwa Station (JR Joban Line, Tobu Noda Line / Urban park Line).
Kashiwanoha Campus Station (West Exit)
To National Cancer Center (Kokuritsu Gan Kenkyu Center) By Tobu Bus*
* Bus Stop 1, Bus No. 西柏03 or 西柏04, around 5 minutes, 170 yen
From National Cancer Center – Kavli IPMU: refer to the Campus Map
University Shuttle Bus (Kashiwanoha Campus station - University)
http://www.k.u-tokyo.ac.jp/gsfs/shuttle-bus/201610shuttlebus_e.pdf
Kashiwanoha Campus Map: Kashiwanoha Campus station - U Tokyo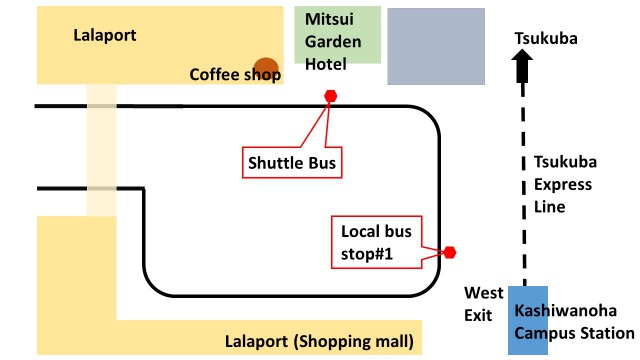 Kashiwanoha Campus station
Kashiwa Station (West Exit)
To National Cancer Center (Kokuritsu Gan Kenkyu Center) By Tobu Bus*
* Bus Stop 2, Bus No. 西柏01 or 柏44, around 25 minutes, 290 yen
From National Cancer Center – Kavli IPMU: refer to the Campus Map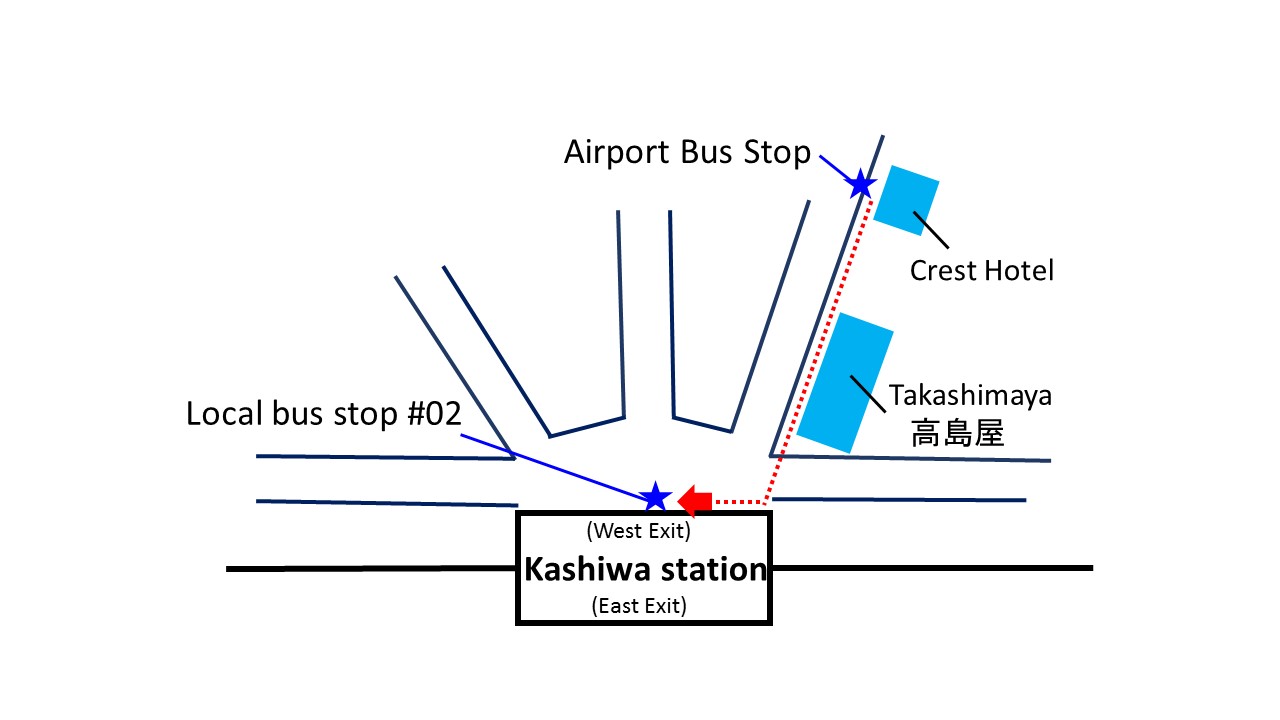 Kashiwa Map: Airport Bus Stop - Local Bus Stop