Hotels
Nearby Hotels
Hotels and their rates per night per person (note that rates are per person, not per room) are listed below. If you are not sure how to make reservation, we are happy to help you.
You can make reservations through the English web sites for The Crest Hotel and Mitsui Garden Hotel Kashiwa near Kashiwa station. The Crest Hotel is more convenient if you take the bus from Narita Airport that drops you off right at the hotel, and also closer to the bus stop to IPMU.
Hotel Del Prado is close to the TX Kashiwanoha Campus station and you can walk to IPMU in 30 minutes along a nice park. You can reserve a shuttle bus that runs in the morning and in the evening.
Note that much of the downtown Tokyo is within the commuting distance of 30-60 minutes by public transportations.
You can find many nice (but not super fancy) hotels in downtown Tokyo at a cost of 8,000 yen to 15,000 yen per person per night. Some of our past visitors stayed happily at Hotel Villa Fontaine, which has many locations in Tokyo. Serviced apartment called Elite Inn Yushima is close to the Unviersity of Tokyo Hongo Campus and is very often used by both visitors staying alone and with families.
New Kashiwa International Guest House (Kashiwa lodge) is also available, and there is a plan to build a hotel near Kashiwanoha Campus station.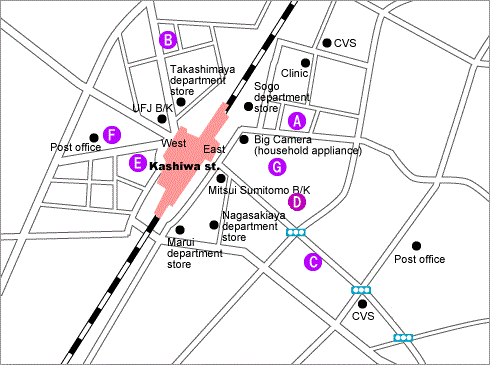 Kashiwa station area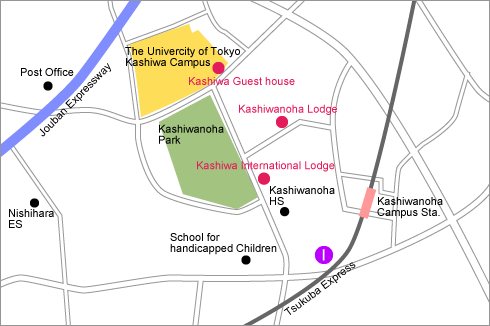 Campus area
Hotel name
Location
Contact
Fee
I
Hotel Del Prado
10min walk from Kashiwanoha-campus sta.
TEL: 04-7131-7188
FAX: 04-7133-7877
S: JPY5,880