Searching for the other Physics – an art exhibition at a science Lab-, Feb 3 - 27, 2010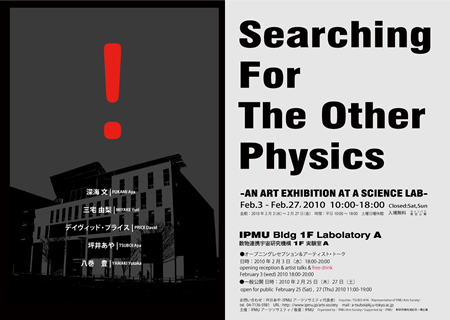 PDF
We are having new exhibition. See here for more details.
All people at Kashiwa campus are welcomed. For the public, please see Schedule.
Opening reception will be held at TODAY (Feb 3) 6 pm at the place.
This is an event for celebrating inauguration of the IPMU research building.
Details
Place:
IPMU Bldg LaboratoryA
Admission:
Free
Organized by:
IPMU Arts Society
Supported by:
IPMU
Schedule
2/3
16:00 open
18:00-20:00 Artist talk & Opening Reception with free drink!
2/25,27
Participants
Fukami, Aya
Miyake, Yuri
Price, David
Tsuboi, Aya
Yamaki, Yutaka
For further information:
Aya Tsuboi (Representative of IPMU Arts Society)
a-tsuboi _ at _ kj.u-tokyo.ac.jp
04-7136-5981