Long time Kavli IPMU supporter Hamamatsu Photonics honored by the University of Tokyo
December 12, 2017
Kavli Institute for the Physics and Mathematics of the Universe (Kavli IPMU)

In recognition of establishing the first endowed professorship for fundamental science and their support for Kavli IPMU research into dark matter and dark energy, Hamamatsu Photonics was awarded the University Of Tokyo Shokumon Award on October 10, announced the university.
The Shokumon Award has been awarded every year since 2002 to individuals, corporations, or organizations that have made a significant contribution to the growth of activities within the university through donations. The award itself is named after the history surrounding the Qi state in China during the civil war era when academic pursuits florished in the area as a result of the state treating academics generously, which attracted more top academics. Shokumon was the name of the castle gate in the Qi state capital.
This is the first time the Shokumon Award has been given to a group that has established an endowed professorship for fundamental research in particle physics and astrophysics to uncover the identity of dark matter and dark energy.
This Hamamatsu Professorship established by Hamamatsu Photonics at the Kavli IPMU requires the professor to actively interact with industrial technicians and researchers to produces research papers, and engage with audiences through public talks about their work. Until recently, former Kavli IPMU Principal Investigator Ken'ichi Nomoto held this position, before Project Professor Tsutomu Yanagida took over the post in April this year.
Moreover, this type of science donation with a direct purpose to educate and develop research is the first of its kind in fundamental science research within the University of Tokyo.
During the award ceremony, Hamamatsu Photonics Representative Director Akira Hiruma talked about how his company had spent the last 65 years trying to catch up with the needs of modern society, particularly through their photoelectric conversion experiment. Now, he said, their new challenge is to uncover the unseen and undiscovered. What is the Universe made of? How did it begin?
Their enthusiasm and dedication to their vision helped Hamamatsu Photonics to receive this award. It is also promising to see the university supporting the development of fundamental research on campus.
This is the second time an organization associated with the Kavli IPMU has received a Shokumon Award. Fred Kavli, representing the Kavli Foundation, received the first International Shokumon Award in 2012.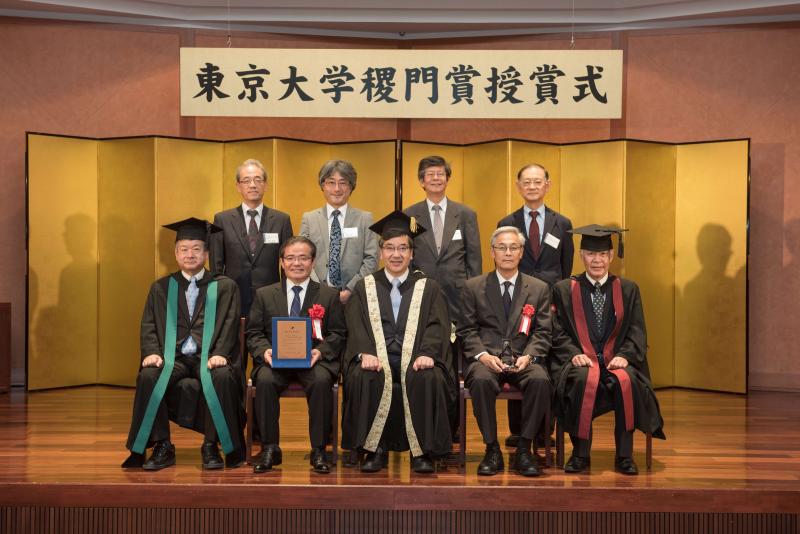 Related News
Endowed Research Unit Established in Kavli IPMU
University of Tokyo Honors Kavli Foundation and Nissin with Shokumon Awards