Expansion rate of the Universe calculated from gravitational lensing technique
January 9, 2019
Space Telescope Science Institute
Kavli Institute for the Physics and Mathematics of the Universe (Kavli IPMU)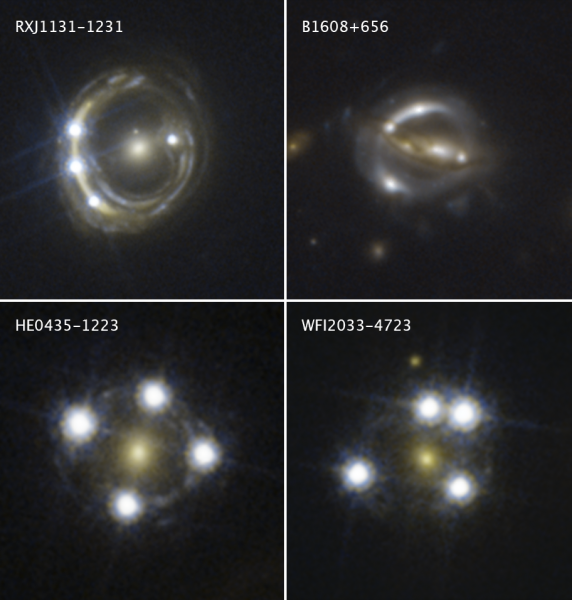 An international team of researchers, including from the Kavli Institute for the Physics and Mathematics of the Universe (Kavli IPMU), has measured the expansion rate of the Universe by using a technique different from previously established methods. Their result provides further evidence that there is clear discrepancy between the expansion rate calculated from late-Universe measurements, and those from the early Universe.
Kavli IPMU Project Researcher Kenneth Wong has been working with the H0LiCOW (H0 Lenses in COSMOGRAIL's Wellspring) team to calculate a Hubble constant value of 73.3 kilometers per second per megaparsec (with 2.4% uncertainty) using gravitational lensing.
"The idea behind using gravitational lensing to measure the Hubble constant is actually over 50 years old," says Wong, "But now we have the high-quality data and analysis tools to apply this method to get a precise result. Because our measurement is completely independent of other methods, it acts as an important check of those results and indicates that something may be wrong about our understanding of the Universe."
The team presented its results at the 235th meeting of the American Astronomical Society in Honolulu, Hawaii, and their paper has been accepted by the Monthly Notices of the Royal Astronomical Society.
Read the full press release by the Space Telescope Science Institute here.
Research contact
Kenneth Wong
Project Researcher
Kavli Institute for the Physics and Mathematics of the Universe
University of Tokyo
E-mail:ken.wong_at_ipmu.jp
* please change _at_ to @
Media contact
Motoko Kakubayashi
Press officer
Kavli Institute for the Physics and Mathematics of the Universe
University of Tokyo
TEL:+81-04-7136-5980
E-mail:press_at_ipmu.jp
* please change _at_ to @
Related links
National Astronomical Observatory of Japan Subaru Telescope "Cosmic Magnifying Glasses Yield Independent Measure of Universe's Expansion" press release
H0LiCOW website