Chiaki Hikage and Others Win the 2020 PASJ Excellent Paper Award
March 3, 2021
Kavli Institute for the Physics and Mathematics of the Universe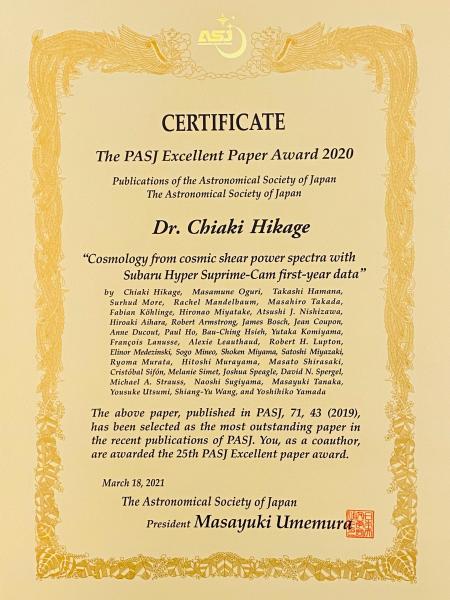 An international research team led by the Kavli Institute for the Physics and Mathematics of the Universe (Kavli IPMU) Project Associate Professor Chiaki Hikage has received the 2020 PASJ Excellent Paper Award, an honour given by the Astronomical Society of Japan (ASJ).
The PASJ Excellent Paper Award recognizes particularly outstanding papers published within the previous five years in ASJ's journal, the Publications of the Astronomical Society of Japan (PASJ). The award-winning papers not only have to be original; they must also have made significant contributions to astronomy.
The award honors all the authors and their institutions, including the University of Tokyo; Nagoya University; Princeton University; Carnegie Mellon University; and the Academia Sinica Institute of Astronomy and Astrophysics (ASIAA), Taiwan. The award-wining paper, "Cosmology from cosmic shear power spectra with Subaru Hyper Suprime-Cam first-year data," was published in 2019.
In their paper, the research group used data from the Hyper Suprime-Cam (HSC) ultra-wide-field primary focus camera mounted on the Subaru Telescope in Hawaii to analyse and measure the gravitational lensing effect of 10 million galaxies. They were able to make precise measurements of the mass distribution of the Universe and the gravitational lensing of large-scale structure.
In addition, by combining the results of the HSC to those of the Planck satellite of the European Space Agency (ESA), and those of other observations, they succeeded in gaining insight into the nature of dark energy—an energy that remains one of the greatest mysteries in the Universe.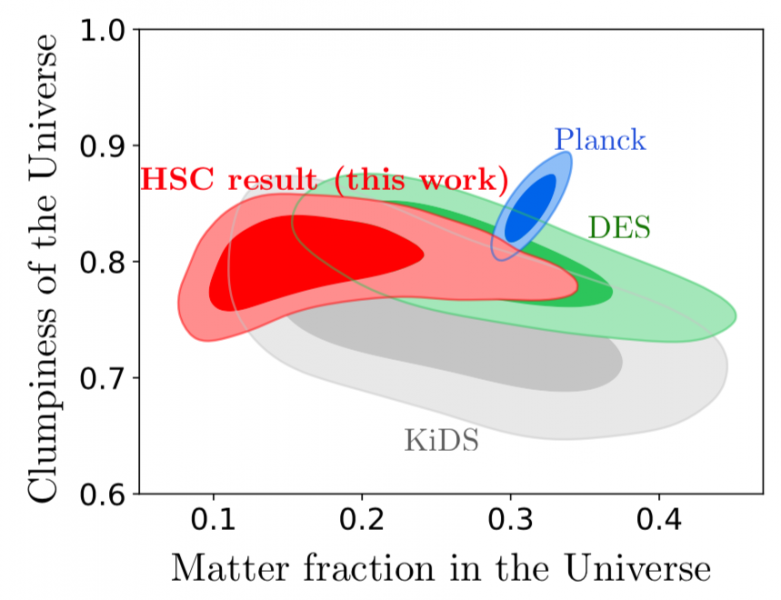 This year's award ceremony will be held online at ASJ's annual meeting in spring, from the 16th to 19th of March, 2021. On receiving the award, Project Associate Professor Hikage said: "I'm very pleased that contributions to astronomy resulting from the HSC on the Subaru Telescope has led to this award. The research was made possible by the great efforts of the HSC team, and I'm deeply grateful to everyone involved. Using initial data from the HSC, and adding to it in the future, we believe we will be able to shed light on the mysteries of dark matter and dark energy. The award will encourage us, going forward."
Related links:
List of PASJ Excellent Paper Award winners on the ASJ website

Award-wining paper at: "Cosmology from cosmic shear power spectra with Subaru Hyper Suprime-Cam first-year data"
Related publication:
Press release "Cosmological constraints from the first-year Subaru Hyper Suprime-Cam survey"
Preprint (arXiv.org)